Dr. Cheryl Cockburn-Wootten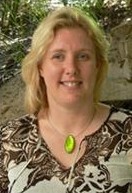 Dr Cheryl Cockburn-Wootten is a Senior Lecturer in the Department of Management Communication at the University of Waikato, Hamilton, New Zealand. She completed her Ph.D at the University of Wales, Cardiff. She investigated gender and leisure discourses within the United Kingdom's grocery retailing sector.
Cheryl is interested in issues relating to identities and social equity in organizations, such as legitimated managerial identities, gendered roles, definitions of professionalism and the emergent processes of organising identities and the corporate personality or signature through communicative praxis. Cheryl has presented at numerous international conferences and has published in International journals on a range of topics within her research expertise and interests since late1990s.
Cheryl has recently completed research investigating professional cultures and identity with Waikato District Health Board Social Work staff. Current research projects encompass Professionalism within the public service identities; tourism & hospitality sector and critical pedagogy to enable empowered workers and quality systems for service delivery.