Dr. Surya Pandey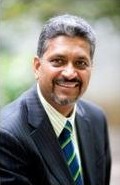 Surya holds B.E. (Hons), Agricultural Engineering, University of Allahabad, India; MApplSc (Hons) Natural Resources Engineering, Lincoln University, Canterbury, New Zealand; and a PhD (Environmental Engineering), Massey University, Palmerston North, New Zealand. He has over 25 years of experience in tertiary educational and research institutions providing scientific, academic, management and professional leadership. He provides professional consultancy services specialising in (a) educational management, strategy and policy with a focus on international educational/research relationship and partnerships; and (b) environmental management with a focus on environmental technology development & transfer.
As International Research Relations Director, Surya was responsible for the development of new opportunities through research and commercial projects and the development of academic agreements and pathways with leading educational and research organisations. As Research Director, Surya was responsible for research, development and knowledge transfer management, strategy and policy development, and science and innovation leadership.
Surya also has extensive experience in university teaching and research in environmental technology development, solid waste & wastewater treatment, and land application of wastes. His research in developing low-impact and low-cost urban environmental management technologies has won many awards.
Related skills include:
Assessing and aligning business, educational and research products with relevant community, business, and professional needs

Increasing organisational effectiveness through innovative thinking, preparation and implementation of strategic policies, plans and projects and change management

Excellent knowledge and understanding of international and New Zealand's education, research, development & technology transfer focus

Environmental technology development and technology transfer

Investigation and assessment of environmental effects
Dr. Pandey has held positions as:
Senior Research Fellow, Waikato Management School, Hamilton, New Zealand – Present

International Research Relations Director, Waikato Institute of Technology (Wintec), New Zealand March 2010 – Present

Visiting Professor, Indian Institute of Technology (IIT), Kharagpur, India

Research Director, Waikato Institute of Technology (Wintec), New Zealand

Team Leader, Senior Scientist and Programme Manager, Landcare Research (a Crown Research Institute of New Zealand)

Lecturer in Environmental Engineering, The University of Waikato, New Zealand

Scientist and Technical Manager, NZ Forest Research Institute (now SCION) (a Crown Research Institute of New Zealand)